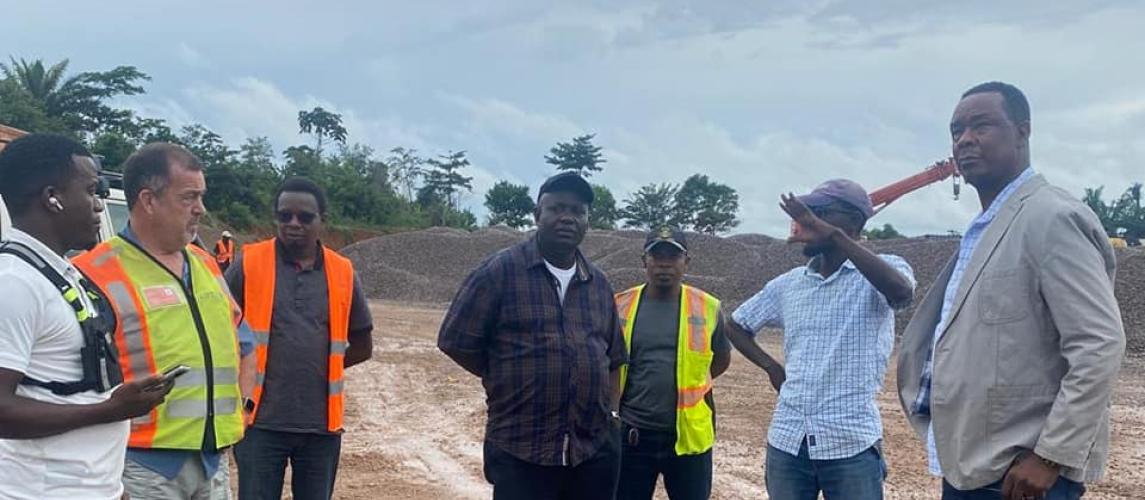 ASPHALT PAVEMENT HITS SANNIQUELLIE, AS GOVERNMENT RALLIES CONTRACTOR FOR ACCELERATION
The Government of Liberia through the Ministry of Public Works has announced the commencement of pavement works in Sanniquellie, Nimba County as part of the ongoing Ganta - Yekepa Corridor Road Project.
 
Deputy Minister for Administration, Hon. Jospeh P. Todd leading the Public Works and IIU High- Level Delegation to Nimba County on Thursday, May 5, 2022 expressed satisfaction over the level of progress that is being made on the corridor. According to the Public Works Official, the pavement of the entire Ganta - Sanniquellie Stretch will mark a major boost towards road development and transport facilitation in the region. 

Minister Todd, who is currently the Acting Minister of Public Works, reaffirmed the Government of Liberia's pledge aimed at connecting county capitals. Meanwhile, Deputy Minister Todd used the visit to rally the Contractor CSE to expedite the works in keeping with the stipulated duration of the Project ahead of the Official Dedication which is expected this June. 
He intimated that modalities are being worked on to ensure the timely completion of the Road Project which seeks to enhance the socio-economic activities along the corridor, thereby improving roads connectivity.

Also speaking, the Project Manager of the World Bank funded Infrastructure Implementation Unit, Engineer Emmanuel Baker lauded the World Bank and the Government of Liberia for the strong partnership as the multilateral institution continues to fund major road corridors in the country.

Engineer  Baker stressed that the timely completion of the Ganta - Yekepa Road Project will mark a monumental progress in the development of roads in Liberia. The Ganta - Yekepa Road Project was initially a 67km Corridor Road Project, but was later reduced to 37km as contained in the addendum document which terminates the road project in the northeastern Nimbaian Town of Sehkimpa as the second phase to kick up towards the Lougatuo border area. The Current Contract Value is put at USD 45.085M with an average progress  rating which stands at 69.1%.